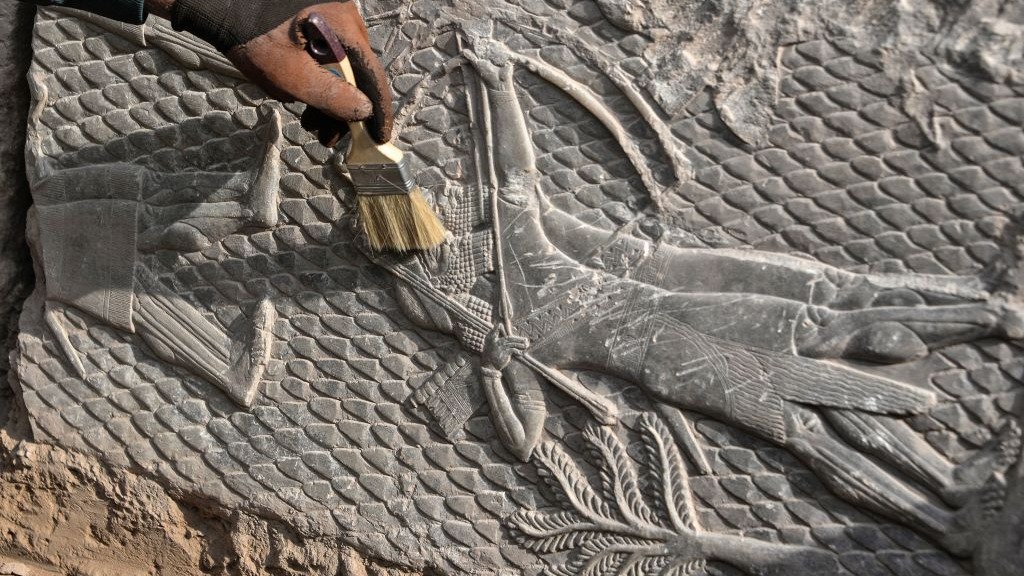 Archeologists in Iraq have unearthed 2,700-year-old stone carvings that have been chiseled right into a beforehand undiscovered part of the Mashki Gate, an iconic construction in what was as soon as the traditional Assyrian capital metropolis of Nineveh.
The eight intricately carved marble bas-reliefs, which depict conflict scenes, grapevines, palm bushes and different motifs, have been present in what's now Mosul, throughout a mission to revive the gate after Islamic State group militants destroyed it. Consultants consider that the ornamental gate dates again to King Sennacherib, who dominated the Assyrian empire from 705 B.C. to 681 B.C., in response to a press release from the Iraqi Council of Antiquities and Heritage.
Throughout his reign, King Sennacherib moved the Assyrian capital to Nineveh the place he grew to become well-known for his huge navy campaigns, in response to BBC Information (opens in new tab). 
Associated: Historical Assyrian rock carvings in Iraq present procession of gods driving legendary animals
"We consider that these carvings have been moved from the palace of Sennacherib and reused by the grandson of the king to renovate the gate of Mashki and to enlarge the guard room," Fadel Mohammed Khodr, head of the Iraqi archaeological group, advised Al Jazeera (opens in new tab).
As a result of a lot of the gate was buried underground as a result of method it was oriented throughout its authentic building, the one parts that archaeologists may salvage have been below the soil.
"Solely the half buried underground has retained its carvings," Khodr mentioned.
In 2016, militants from IS (additionally known as ISIS, ISIL or Daesh) destroyed (opens in new tab) the enduring gate with a bulldozer. The Swiss-based Worldwide Alliance for the Safety of Heritage in Battle Areas (opens in new tab) is working with Iraqi authorities in addition to archaeologists from the College of Pennsylvania and Mosul College on the restoration of the gate.